Current Release
Ver 1.2, Feb 21, 2007
All software is certified to contain No Adware, No Spyware, and No Viruses.

Download the Self-extracting automatic installation program. The software will be automatically installed to your computer.

Download the software in a ZIP archive. You will need to unzip it with a tool such as pkzip or winzip.
This software is compatible with Windows version 95, 98, ME, NT, 2000, XP, and Vista.
All SB-Software products are free of disabled features or expirations. You may try out the full functionality of the program for an unlimited time period.
Ultimate Asteroids Arcade Pack is a collection of not one, not two, not even three, but actually FOUR asteroid-style games! You get everything from a classic asteroids arcade style game, to a retro-style vector graphics game, to the modern Astro Hunter 3D Deluxe. All games feature textured and rendered 3D asteroid models.
Please Purchase / Register your software today!
Please register and support the author!

"Registering" is the term we use for how you "buy" the software. Please register your software today. The price is cheap, your registration is good for all future versions and it helps me to continue to develop the software!

Paying online with your credit card is the most popular form of registering, but you may also register by using Pay-Pal, or by sending a check in the mail.
Would you like to know more about Astro-Hunter 3D Deluxe?
Want to know more? Check out the following:
| | |
| --- | --- |
| 4 | Just download the game and try it out! It's a free download! |
Compatibility
Ultimate Asteroids Arcade Pack is compatible with Windows XP and Vista, and requires DirectX version 9.0
No Hassle Guarantee:
This software features the SB-Software "No Hassle Guarantee". This software contains NO spyware, NO adware, NO viruses, NO trojans, has NO disabled features, and does NOT expire.
Recent New Features
Here's a run-down of some of the new features introduced in versions 1.1-1.2

A little less jitter
Ability to reset the high store list.
Fix to registration code problem
Fix to trigger getting stuck on after ship was destroyed
None
Features:
Four different asteroids-style games! If you remember the classic game Asteroids from back in the 1980s, then you'll love Ultimate Asteroids Arcade Pack, which is a modern update of the arcade classics. The primitive 1980s era graphics are replaced by textured asteroids that roll, tumble, and explode apart when hit. The four games are described as follows:

Asteroids Classic. A good approximation of the classic asteroids experience. You face wave after wave of asteroids. Blast them apart before the collide with your spacecraft!

Asteroids Retro. This game plays identically to asteroids classic, but uses a special neon-blue/green outline shader that makes the game look like it was playing on a good ol' 1980 vector display. It'll bring back memories from your teenage years spent in the arcades.

Astro Hunter 3D Deluxe. In addition to asteroids, you get to battle space invaders, crazy whirly things, borg cubes, and all kinds of crazy arcade objects.

AstroBlast Extreme. This game is a combination between an asteroids game and a shooter like space invaders. The closest comparison is the arcade game 'Astro Blaster'. Asteroids rapidly fall from the sky and you have to shoot them. Each asteroid that slips by you will cost you points.
Screen Shot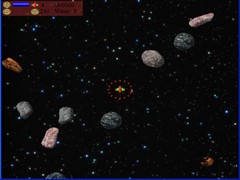 Click the screen shot above to view a full size version
Questions, comments, or suggestions? Email the author at
smbaker@sb-software.com
Fast Facts and Features
| | |
| --- | --- |
| | Requires directX 9.0 or above |
| | Fully rendered 3D graphics |
| | Photo-realistic textured asteroids |
| | Cool weapons and power ups |