Current Release
Ver 2.0, Nov 2, 2006
All software is certified to contain No Adware, No Spyware, and No Viruses.

Download the Self-extracting automatic installation program. The software will be automatically installed to your computer.

Download the software in a ZIP archive. You will need to unzip it with a tool such as pkzip or winzip.
This software is compatible with Windows version 95, 98, ME, NT, 2000, and XP.
All SB-Software products are free of disabled features or expirations. You may try out the full functionality of the program for an unlimited time period.
Scott's Binary Clock is a clock that displays the current time in binary using a LED display. It's a little gadget or conversation piece for your desktop. It really doesn't serve much of a practical purpose, unless your goal is to display the time in a format that nobody but you can read. Emphasis has been placed on making the clock cool looking and realistic (the LEDs in the clock were obtained from taking pictures of real-world LEDs)
Several different sizes of binary clocks are available -- you can select between large, small, and horizontal versions. Check the screen shot page for pictures of the binary clock displays. There are also several backgrounds, including matte black, brushed aluminum, mahogany, and a very cool transparent background.
If you like the software, please donate!
Please support the author by sending in a small fee to support software development.

"Registering" is the term we use for how you "buy" the software. Please register your software today. The price is cheap, your registration is good for all future versions, it helps me to continue to develop the software.

You can click the "register" button to the left to pay online via your credit card or paypal, or to see instructions for sending a check or money order in the mail.
Many people would like to know how to read a binary clock (it's a little complicated, but very simple once you get used to it), so I've set up a special page for just that reason:
You can also read the online documentation for Scott's Binary Clock to see how to use the software, and what features are available:
Compatibility
Scott's Binary Clock is compatible with ALL recent versions of Windows, including 95, 98, ME, NT, 2000, and XP!
No Hassle Guarantee:
This software features the SB-Software "No Hassle Guarantee". This software contains NO spyware, NO adware, NO viruses, NO trojans, has NO disabled features, and does NOT expire.
Recent New Features
Here's a run-down of some of the new features introduced in versions 1.3-1.6:
Default to BCD mode
Transparent background
Fix problem with background not repainting when changed
Additional backgrounds: brushed aluminum, mahogany
Some more information about binary clocks...
So why would you want to use a binary clock on your desktop? The most common reason is because it looks cool, and it's a clock format that only you will be able to read. Have your friends over and dazzle them with your abilities to read the binary number system.

It's also a great way to learn binary and/or BCD!

What's the difference between binary and BCD? BCD stands for binary coded decimal, and it can be though of as a special easier-to-read version of binary. For example, say the current time is 8:59. You could encode the "59" minutes as binary, which would be 59 = 00111011. Or, you could use BCD and encode each digit seperately, 5 = 0101 and 9 = 1001. By encoding the digits seperately, they are easier to interpret. My page on how to read a binary clock details both methods.

Is the software really free? Yes, it's free. There are no hassles, and no hidden gimmicks. I do encourage donations though, so if you use the clock, please support my efforts!

Questions / Suggestions / Comments / Bug Reports: Send them to me. I'm always adding new features to my software, so your suggestions are helpful and welcome.
Screen Shot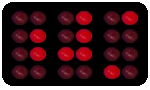 Click the screen shot above to view a full size version, and to see the other types of displays (horizontal, transparent, different LED types, etc)
Fast Facts and Features
Displays the time in a cool looking binary format.
Photo-realistic LEDs and backgrounds
Supports transparent mode
Different formats: BCD, Binary, horizontal digits, vertical digits, etc.
Different types of LEDs: round, square, rectangular, ...
Free for noncommercial use.