Current Release
Ver 1.6, Nov 13, 2006
All software is certified to contain No Adware, No Spyware, and No Viruses.

Download the Self-extracting automatic installation program. The software will be automatically installed to your computer.

Download the software in a ZIP archive. You will need to unzip it with a tool such as pkzip or winzip.
This software is compatible with Windows version 95, 98, ME, NT, 2000, and XP.
All SB-Software products are free of disabled features or expirations. You may try out the full functionality of the program for an unlimited time period.
Summary: ePassBook Password Repository is a secure, encrypted password manager for you to store passwords and other secure data in. It uses the government-standardized AES encryption algorithm. You can download it for free, and I ask a small donation (or "registration" in shareware terms) if you find the software useful.
Please Purchase / Register your software today!
Please Register and Support the Author

"Registering" is the term we use for how you "buy" the software. Please register your software today. The price is cheap, your registration is good for all future versions, it helps me to continue to develop the software.

Paying online with your credit card is the most popular form of registering, but you may also register by using Pay-Pal, or by sending a check in the mail.
Would you like to know more about ePassBook and how it can keep your passwords secure?
Want to know more? Check out the following:
| | |
| --- | --- |
| 4 | Just download it. It's a FREE download! |
Questions or comments? Email me directly at email address
Recent New Features
Here's a run-down of some of the new features introduced in versions 1.2-1.4:
Added option to change the current passphrase
Fixed sizing issues on non-standard DPI systems
Added copy buttons
Fixed problems with using taskbar icon when main window already visible
Added green icon option
Fixed wrong title listed in program group
Add right-click context menu to taskbar icon
None
Features:
This software is intended to store all of your passwords and other private information. It is specifically designed to store (name, password) pairs which are similar to what most people use to access websites. The program grew out of my own needs -- having literally hundreds of passwords and needing a place to store them all. This software uses cryptography to ensure that the passwords are protected on disk, so an attacker cannot find them.

The cryptography is the standard AES (Advanced Encryption Standard) algorithm, not some half-assed home brewed solution. It is industrial strength encryption that will keep your passwords safe.

Now, you might ask yourself -- why keep your passwords in a password manager like ePassBook -- why not just keep then in a file on your disk? Well, there are several reasons:

Security -- your passwords are valuable and you should absolutely store them in some kind of an encrypted location. The world is full of viruses and trojans, adware and spyware, and other malware that could conceivably let an attacker into your system. If your passwords are sitting in a plaintext file, you are vulnerable.
Management -- A password manager has an easy to use interface that lets you manage and keep track of your passwords. You can organize them. You can edit and delete them. You can sort and search and browse.
Ease of Use - ePassbook can be configured to sit in the system tray and/or can be loaded on windows startup. That means your passwords can be just one click away when you need them.
Screen Shot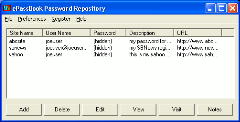 Click the screen shot above to view a full size version
Fast Facts and Features
Uses secure and proven AES (Advanced Encryption Standard) encryption algorithm.
Can be set to auto-load on startup
Can be set to reside in your task manager system tray.
Other Shareware & Free Programs
Groovy Hex Editor
A nice simple easy to use program for editing binary files in hex, decimal, ascii, or binary.
Android Newsgroup Downloader is my latest and greatest newsgroup downloading program.
SortPics is an image sorting and duplicate remover, perfect for categorizing the large numbers of images you may download with Newsbot.