Current Release
Ver 1.9, Mar 8, 2007
All software is certified to contain No Adware, No Spyware, and No Viruses.

Download the Self-extracting automatic installation program. The software will be automatically installed to your computer.

Download the software in a ZIP archive. You will need to unzip it with a tool such as pkzip or winzip.
This software is compatible with Windows version 95, 98, ME, NT, 2000, and XP.
All SB-Software products are free of disabled features or expirations. You may try out the full functionality of the program for an unlimited time period.
Scott's Space Invaders is a relatively straightforward space-invaders style game.It features awesome updated 3D graphics and effects, cool powerups and weapons, and requires DirectX 9.0.
Optional -- Donate to the shareware author !
You don't need to register, but you can still support the author if you wish to.

It's FREE -- you don't have to register! There's no strings attached; it really is free.

However, if you do wish to support my arcade game efforts, you are welcome to make a donation that will help me to continue programming the arcade games.
Would you like to know more about Scott's Space Invaders ?
Want to know more? Check out the following:
| | |
| --- | --- |
| 4 | Just download the game and try it out! It's a free download! |
Compatibility
Scott's Space Invaders is compatible with Windows XP, and requires DirectX version 9.0
No Hassle Guarantee:
This software features the SB-Software "No Hassle Guarantee". This software contains NO spyware, NO adware, NO viruses, NO trojans, has NO disabled features, and does NOT expire.
Recent New Features
Here's a run-down of some of the new features introduced in versions 1.1-1.8:

New install program
Fix for trigger getting stuck after ship destroyed
Better hardware support (support for cards that do not support A8R8G8B8 backbuffers)
Better difficulty increase with successive levels
High score list
Joystick and Mouse support
Configurable keyboard controls
Added sliders to control the speed of the missiles
Tweaked the acceleration just a bit
Starburst missiles go up a ways before blasting
None
Features:
Scott's Space Invaders is a modern take on the classic Space Invaders theme. I've tried to keep the game play as classic as possible, while adding a few new perks that include:

Multiple missile launchers -- you can get powerups that will let you fire two, or three missiles at a time
Shields -- the shield powerup will give you a 1-second energy screen to protect you against enemy attacks
Hull Plating -- your ship can be beefed up to absorb more hits before being destroyed
Starburst Missiles -- blasts a whole bunch of invaders out of the sky with one shot

Although the game play is inherently two dimensional, the game does use DirectX 9.0 to render 3D graphics. The space invaders spin around (they are 3D models) as they move.
Screen Shot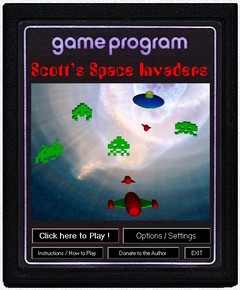 Click the screen shot above to view a full size version
Questions, comments, or suggestions? Email the author at
smbaker@sb-software.com
Fast Facts and Features
| | |
| --- | --- |
| | Requires directX 9.0 or above |
| | Fully rendered 3D graphics |
| | Cool weapons - starburst missile, shields, triple cannon, and more! |
| | Classic space invaders game play |