Current Release
Ver 2.1, Nov 30, 2006
All software is certified to contain No Adware, No Spyware, and No Viruses.

Download the Self-extracting automatic installation program. The software will be automatically installed to your computer.

Download the software in a ZIP archive. You will need to unzip it with a tool such as pkzip or winzip.
This software is compatible with Windows version 95, 98, ME, NT, 2000, and XP.
All SB-Software products are free of disabled features or expirations. You may try out the full functionality of the program for an unlimited time period.
Astro Hunter 3D Deluxe is an asteroid shooter game. It's like that good ol' asteroids game that you probably played in the mid 1980's. However.... It's designed for modern high end PCs, and features awesome 3D graphics, photo-realistic deep space backgrounds, many different powerups and weapons, UFOs, and more!
Please Purchase / Register your software today!
Please register and support the author!

"Registering" is the term we use for how you "buy" the software. Please register your software today. The price is cheap, your registration is good for all future versions and it helps me to continue to develop the software!

Paying online with your credit card is the most popular form of registering, but you may also register by using Pay-Pal, or by sending a check in the mail.
Would you like to know more about Astro-Hunter 3D Deluxe?
Want to know more? Check out the following:
| | |
| --- | --- |
| 4 | Just download the game and try it out! It's a free download! |
Compatibility
Astro Hunter 3D deluxe is compatible with Windows XP, and requires DirectX version 9.0
No Hassle Guarantee:
This software features the SB-Software "No Hassle Guarantee". This software contains NO spyware, NO adware, NO viruses, NO trojans, has NO disabled features, and does NOT expire.
Recent New Features
Here's a run-down of some of the new features introduced in versions 1.3-2.1

Defaults to mouse instead of keyboard (more people like it that way)
High score feature
Mouse and Joystick support
Support for alternate display resolutions
Sped up rotation rate for keyboard and joystick control
Better error reporting
Configurable keyboard controls
New title/splash screen
More configuration of missile speeds / acceleration effects
Fix some flicker / frame rate issues
None
Features:
Not your father's asteroid game! This arcade game is written using the latest and greatest 3D graphics processing available on your PC. 3D asteroids rotate and wander across your screen and you get to shoot them (sounds simple enough, right?).

Well, there's a lot more to it than just that. There are UFOs and other adversaries that will appear and attempt to prevent you from completing your task. Beware of Monoliths, and Phantom Zones, and other deep space hazards.

Fortunately, you have quite an arsenal to help you defeat your enemies. Although your ship comes with one missile launcher, you can equip it with up to three. You can also gain additional hull plating or shields. Sometimes you will even find advanced weapons like a starburst missile array.
Screen Shot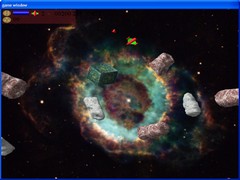 Click the screen shot above to view a full size version
Questions, comments, or suggestions? Email the author at
smbaker@sb-software.com
Fast Facts and Features
| | |
| --- | --- |
| | Requires directX 9.0 or above |
| | Fully rendered 3D graphics |
| | Photo-realistic textured asteroids |
| | Cool weapons and power ups |