Current Release
Ver 1.7, May 25, 2007
All software is certified to contain No Adware, No Spyware, and No Viruses.

Download the Self-extracting automatic installation program. The software will be automatically installed to your computer.

Download the software in a ZIP archive. You will need to unzip it with a tool such as pkzip or winzip.
This software is compatible with Windows version 95, 98, ME, NT, 2000, XP, and Vista.
All SB-Software products are free of disabled features or expirations. You may try out the full functionality of the program for an unlimited time period.
Scott's Wallpaper Switcher is a system tray tool designed to allow you to quickly switch between wallpapers on your windows desktop. You can also configure the program to automatically switch wallpapers at predetermined intervals (like every 5 minutes). There is a built in "boss key" feature where clicking the system tray icon will bring up a "safe" wallpaper just in case you are in the habit of running inappropriate wallpapers on your windows desktop.
Please Purchase / Register your software today!
"Registering" is the term we use for how you "buy" the software. Please register your software today. The price is cheap, your registration is good for all future versions, it helps me to continue to develop the software.

Paying online with your credit card is the most popular form of registering, but you may also register by using Pay-Pal, or by sending a check in the mail.
Would you like to know more about Scott's Wallpaper Switcher, and how it can make your desktop way more cool ?
Want to know more? Check out the following:
| | |
| --- | --- |
| 4 | Download the program and evaluate it for free! |
Compatibility
Scott's Wallpaper Switcher is compatible with ALL recent versions of Windows, including 95, 98, ME, NT, 2000, XP, and Vista!
No Hassle Guarantee:
This software features the SB-Software "No Hassle Guarantee". This software contains NO spyware, NO adware, NO viruses, NO trojans, has NO disabled features, and does NOT expire.
Recent New Features
Here's a run-down of some of the new features introduced in version 1.1-1.5:
Added multiple click options for system tray icons (version 1.5)
Allow multiselect for changing wallpaper modes, delete, etc
Add random sequencing option
Fix serious memory leak problem
Fix taskbar icon not always brining program to top
None
Features:
If you have a collection of several different wallpapers, then you've probably run into the situation where the wallpaper capabilities built into the windows operating system are not sufficient to manage all of your wallpapers.

Scott's Wallpaper Switcher allows you to put all of your wallpapers in a list where you can quickly select them, or can schedule them to change automatically -- either sequencing them in order, or letting the wallpaper switcher select them randomly.

The "boss key" allows you to quickly switch to a preselected wallpaper (such as the windows XP default Bliss wallpaper) by clicking an icon on the taskbar / system tray. It's useful in case you need to clean up your desktop quickly.

The taskbar icon allows you to quickly right-click and select a wallpaper from the list without having to open the program. Scott's Wallpaper Switcher allows you to use wallpapers in various formats -- including gif, jpeg, jpg, bmp, etc -- and automatically converts them to the proper format for displaying in windows.

You can download this software for free, and evaluate it for an unlimited period of time.
Screen Shot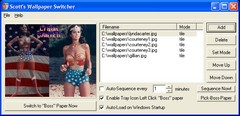 Click the screen shot above to view a full size version
Fast Facts and Features
Automatic or manual wallpaper sequencing
Sequential or Random ordering
"Boss Key" feature lets you quickly switch to a safe wallpaper
Built in wallpaper image previewer
System tray icon allows quick wallpaper selection
Nonlinear stretch modes to help display wallpapers with incorrect aspect ratios.
Tested with Windows Vista
Other SB-Software Programs