Current Release
Ver 1.0, Mar 13, 2005
All software is certified to contain No Adware, No Spyware, and No Viruses.

Download the Self-extracting automatic installation program. The software will be automatically installed to your computer.

Download the software in a ZIP archive. You will need to unzip it with a tool such as pkzip or winzip.
This software is compatible with Windows version 95, 98, ME, NT, 2000, XP, and Vista.
All SB-Software products are free of disabled features or expirations. You may try out the full functionality of the program for an unlimited time period.
SMTP Watcher is a program that monitors your SMTP (incoming mail) servers and makes sure they are online. It hides in the windows system tray and pops-up to alert you should one of your servers stop responding.
See also: DNS Watcher -- a similar tool for monitoring DNS Servers
If you have any questions, comments, or suggestions, then please email me at email address
Please Purchase / Register your software today!
"Registering" is the term we use for how you "buy" the software. Please register your software today. The price is cheap, your registration is good for all future versions, it helps me to continue to develop the software, and you get other SB-Software programs!!

Paying online with your credit card is the most popular form of registering, but you may also register by using Pay-Pal, or by sending a check in the mail.
Would you like to know more about SBNews / News Robot, and how it can accelerate your downloading experience?
Want to know more? Check out the following:
Why monitor SMTP servers?
Your SMTP servers is the server that is responsible for receiving incoming email messages. If it goes down, then you will be unable to receive email. This can be disastrous for commercial websites that rely on email service and need to present a reliable image to customers. SMTP Watcher will verify that your SMTP server is up and running and accepting incoming connections.
Screen Shot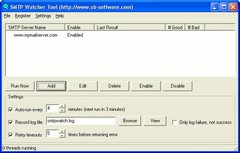 Click the screen shot above to view a full size version
Fast Facts and Features
Monitor your SMTP servers for connectivity
Pop-up alert if a server goes offline
Automatic polling of servers
Can be configured to watch multiple servers
Similar Programs
DNS Watcher
A similar tool for watching DNS servers instead of SMTP servers.
Interactive DNS Query
An interactive tool to query DNS servers, similar to dig or nslookup but with a GUI interface.
SortPics
A full-featured image-sorting tool for large image collections