Current Release
Ver 1.2, Apr 8, 2005
All software is certified to contain No Adware, No Spyware, and No Viruses.

Download the Self-extracting automatic installation program. The software will be automatically installed to your computer.

Download the software in a ZIP archive. You will need to unzip it with a tool such as pkzip or winzip.
This software is compatible with Windows version 95, 98, ME, NT, 2000, XP, and Vista.
All SB-Software products are free of disabled features or expirations. You may try out the full functionality of the program for an unlimited time period.
Quick Info: DNS Watcher is a shareware tool to monitor your DNS servers. It sits in the windows system tray and periodically checks the servers, verifying that they are online, and responding with correct records. There is also a "manual" mode where you can interactively query the DNS servers.
Please Purchase / Register your software today!
"Registering" is the term we use for how you "buy" the software. Please register your software today. The price is cheap, your registration is good for all future versions, it helps me to continue to develop the software, and you get other SB-Software programs!!

Paying online with your credit card is the most popular form of registering, but you may also register by using Pay-Pal, or by sending a check in the mail.
Would you like to know more about DNS Watcher, and how it you can use it to ensure that your web site is up and running ?
Want to know more? Check out the following:
3

Read more

about

the software.
Recent New Features
Here's a run-down of some of the new features introduced in versions 1.2:
Add options to restrict the list of valid IP addresses
Fix screen resolution problems with unusual dpi settings
None
Features:
DNS Watcher is a tool for web masters to watch and monitor their DNS records. You can configure DNS Watcher with a list of DNS server names and host names, and DNS Watcher will poll the servers periodically and make sure your DNS records are correct. This makes it easy to tell if your DNS server has crashed or not responding. DNS Watcher keeps a statistical count of successful and errored connections, so you can tell how often your servers are experiencing faults.

DNS Watcher also includes a DNS query tool that lets you query your DNS records and see exactly what is stored there (A records, MX records, etc). The interactive mode is very useful as you can see what records your DNS servers are exporting and whether there are any mistakes.

If your DNS server goes down, then visitors will be unable to reach your website. This can be costly and time consuming to deal with. Using DNS watcher will let you know immediately when a problem occurs.
Screen Shot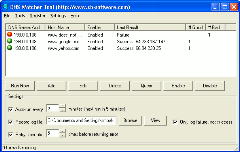 Click the screen shot above to view a full size version
Fast Facts and Features
Can be placed in system tray
Automatically periodically polls your DNS servers and verifies correct operation.
Manual mode is also available to let you manually query DNS records
Keeps statistics and log files of successful and unsuccessful attempts.