Current Release
Ver 1.2, Aug 14, 2005
All software is certified to contain No Adware, No Spyware, and No Viruses.

Download the Self-extracting automatic installation program. The software will be automatically installed to your computer.

Download the software in a ZIP archive. You will need to unzip it with a tool such as pkzip or winzip.
This software is compatible with Windows version 95, 98, ME, NT, 2000, and XP.
All SB-Software products are free of disabled features or expirations. You may try out the full functionality of the program for an unlimited time period.
Interactive DNS query tool that lets you query your DNS records and see exactly what is stored there (A records, MX records, etc). The functionality is similar to what you'd get with the unix "dig" or "nslookup" commands, but with a windows GUI interface. Interactive DNS Query allows you to select the servers that you want to query (i.e. you're not restricted into using the servers that your windows machine is configured to use).
Click here to read more about Interactive DNS Query
Interactive DNS query is a standalone version of the DNS Query tool that is built into DNS Watcher. DNS Watcher adds more capabilities such as automatic monitoring of your DNS servers and verification that your servers are operating correctly.
Questions / Comments / Suggestions? report them to smbaker@sb-software.com
Screen Shot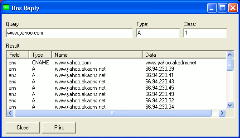 Click the screen shot above to view a full size version
Fast Facts and Features
Free utility
Queries DNS records from servers
Displays results of DNS queries -- A records, PTR records, etc
Helps you diagnose DNS related problems
Other SB-Software Programs