Current Release
Ver 1.0, Jan 27, 2006
All software is certified to contain No Adware, No Spyware, and No Viruses.

Download the Self-extracting automatic installation program. The software will be automatically installed to your computer.

Download the software in a ZIP archive. You will need to unzip it with a tool such as pkzip or winzip.
This software is compatible with Windows version 95, 98, ME, NT, 2000, and XP.
All SB-Software products are free of disabled features or expirations. You may try out the full functionality of the program for an unlimited time period.
This tool is used to perform a nonlinear resize (or "warp") of an image. By warping, you can resize an image such that the objects in the center of an image remain clear and undistorted, and distortion occurs near the edges of the image. This tool is useful for situations where you need to convert an image from one aspect ratio to another without cropping. I often use it when creating wallpapers when I have a wallpaper that is not the correct aspect ratio to display on my desktop.
For example, take a look at the screen shot at the right. The graphic was originally 747x923 and was stretched to 1024x768. Normally, this would result in the image becoming distorted. However, when the nonlinear warp effect was used, the center of the image remained undistorted, with the stretches ocurring at the edges, which contained only background scenary.
Would you like to know more about Nonlinear Image Resizing Tool ?
Want to know more? Check out the following:
| | |
| --- | --- |
| 4 | Download the program and evaluate it for free! |
Compatibility
Scott's Wallpaper Switcher is compatible with ALL recent versions of Windows, including 95, 98, ME, NT, 2000, and XP!
No Hassle Guarantee:
This software features the SB-Software "No Hassle Guarantee". This software contains NO spyware, NO adware, NO viruses, NO trojans, has NO disabled features, and does NOT expire.
Recent New Features:
Screen Shot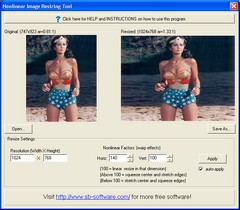 Click the screen shot above to view a full size version
Fast Facts and Features
Squeeze the center of an image and stretch the edges
Allows you to make odd-sized wallpapers look reasonable on your desktop.
Other SB-Software Programs