Current Release
Ver 1.2, Jan 12, 2007
All software is certified to contain No Adware, No Spyware, and No Viruses.

Download the Self-extracting automatic installation program. The software will be automatically installed to your computer.

Download the software in a ZIP archive. You will need to unzip it with a tool such as pkzip or winzip.
This software is compatible with Windows version 95, 98, ME, NT, 2000, and XP.
All SB-Software products are free of disabled features or expirations. You may try out the full functionality of the program for an unlimited time period.
Missile Commander XP is a missile-command style game for windows XP. It features updated rendered 3d graphics using Directx 9.0.
Please Purchase / Register your software today!
Please register and support the author!

"Registering" is the term we use for how you "buy" the software. Please register your software today. The price is cheap, your registration is good for all future versions and it helps me to continue to develop the software!

Paying online with your credit card is the most popular form of registering, but you may also register by using Pay-Pal, or by sending a check in the mail.
Would you like to know more about Missile Commander XP ?
Want to know more? Check out the following:
| | |
| --- | --- |
| 4 | Just download the game and try it out! It's a free download! |
Compatibility
Missile Commander XP is compatible with Windows XP, and requires DirectX version 9.0
No Hassle Guarantee:
This software features the SB-Software "No Hassle Guarantee". This software contains NO spyware, NO adware, NO viruses, NO trojans, has NO disabled features, and does NOT expire.
Recent New Features
Here's a run-down of some of the new features introduced in versions 1.1 - 1.2

High score list
More / better sound effects
Scoreboard border makes it readable on all backgrounds
Better distribution of incoming missiles; less "all at once" behavior
None
Features:
Missile Commander is a game where you have to shoot down the incoming ICBMs (Intercontinental Ballistic Missiles) with your arsenal of ABMs (Anti-Ballistic Missiles). Missile Commander plays quite similarly to the Missile Command game that you might have encountered in a video arcade in the mid 1980s.
Screen Shot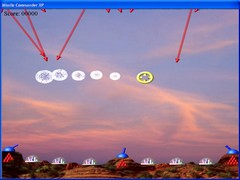 Click the screen shot above to view a full size version
Questions, comments, or suggestions? Email the author at
smbaker@sb-software.com
Fast Facts and Features
| | |
| --- | --- |
| | Requires directX 9.0 or above |
| | Fully rendered 3D graphics |
| | Cool looking backgrounds on earth, the moon, mars, europa and more! |
| | Defend your cities against incoming missiles. |