Current Release
Ver 1.2, Apr 20, 2007
All software is certified to contain No Adware, No Spyware, and No Viruses.

Download the Self-extracting automatic installation program. The software will be automatically installed to your computer.

Download the software in a ZIP archive. You will need to unzip it with a tool such as pkzip or winzip.
This software is compatible with Windows version 95, 98, ME, NT, 2000, XP, and Vista.
All SB-Software products are free of disabled features or expirations. You may try out the full functionality of the program for an unlimited time period.
Scott's JPEG Commenter is a tool used to insert comments into JPEG files. It's meant to be fast, simple, and intuitive. The utility is free for noncommercial use. So why are JPEG comments useful? Well, they're kind of like writing on the back cover of a photograph -- you can jot down information about the image: where it was taken, who is in it, dates/times, etc.
The software is also useful to view existing JPEG comments. Many programs (such as photoshop) automatically insert a comment. You might also find comments in photos that you download from the web. Scott's JPEG commenter can also be used to remove comments from images if you have a commented image that you want to de-comment.
Would you like to know more about Scott's JPEG Commenter ?
Want to know more? Check out the following:
| | |
| --- | --- |
| 4 | Download the program and evaluate it for free! |
Compatibility
Scott's JPEG Commenter is compatible with ALL recent versions of Windows, including 95, 98, ME, NT, 2000, XP, and Vista!
No Hassle Guarantee:
This software features the SB-Software "No Hassle Guarantee". This software contains NO spyware, NO adware, NO viruses, NO trojans, has NO disabled features, and does NOT expire.
Recent New Features:
Version 1.2 includes a new search feature that can let you search the comments of all of the jpeg files in the current directory.
Screen Shot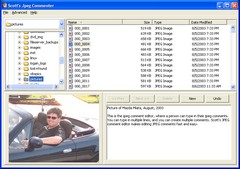 Click the screen shot above to view a full size version
Fast Facts and Features
Explorer-like interface
Nice big comment editing window
Built in thumbnail viewer
Fast, simple, and efficient.
Other SB-Software Programs