Current Release
Version 6.3, Feb 16, 2013
All software is certified to contain No Adware, No Spyware, and No Viruses.

Download the Self-extracting automatic installation program. The software will be automatically installed to your computer.
This software is compatible with Windows version 95, 98, ME, NT, 2000, XP, Vista, Windows 7, and Windows 8.
All SB-Software products are free of disabled features or expirations. You may try out the full functionality of the program for an unlimited time period.
Android is a new newsgroup downloader that is designed especially for downloading from today's huge binary newsgroups. Android handles all types of binary newsgroups -- picture, movie, music, application/rar, and more!
Android now supports encrypted usenet services.
Please Purchase / Register your software today!
"Registering" is the term we use for how you "buy" the software. Please register your software today. The price is cheap, your registration is good for all future versions, it helps me to continue to develop the software, and you get other SB-Software programs, such as Sortpics included with your registration for free!!

Paying online with your credit card is the most popular form of registering, but you may also register by using Pay-Pal, or by sending a check in the mail.
Would you like to know more about Android, and how it can accelerate your downloading experience?
Want to know more? Check out the following:
What make Android special ?

Android has several features that makes it special:
Android is designed for handling huge newsgroups. Newsgroups with hundreds of thousands, or even millions of posts are absolutely no problem with Android.
Android has a queue-oriented design. You drag and drop the posts you want from the list of available posts to Android's queue, where they are downloaded. Android remembers its queue from one session to the next, and remembers what you have already downloaded.
Android saves the newsgroup headers from one session to the next. This means you don't have to spend half an hour re-downloading 2 million headers from that huge alt.binaries group.
Android is multithreaded. Android accelerates downloading of large multi-part messages by downloading the parts in parallel.
What can you download with Android ?
You can download anything! Android handles all types of newsgroup attachments, including the following:

pictures: gif, jpg, jpeg, bmp, pcx, png, etc
movies: avi, mpeg, mpg, and more!
archives/applications: rar, zip, exe
music: mp3, wav, vob, ...

Android can download any kind of content from a newsgroup. The files are automatically downloaded and decoded (uudecode, mime, yEnc, Base64 are all supported).
What about 'posting' to newsgroups ?
Yes, Android can also post to newsgroups. Right now, Android is limited to posting single-messages, such as simple text messages, or messages containing small files, such as images. I'm working on adding a full-fledged multipart poster (forbig files like mp3, mpeg, etc) to Android as well, which should be done soon.

Click here for a quick demo of how to post news messages with Android.
Recent new features:
This section hilights some of the more significant changes (see the users's manual for a complete revision history).
Newsgroup quick-select filters (ver 3.1)
Message reader and poster (ver 3.1)
Request wizard (ver 3.2)
Fix download directory not saved between sessions (ver 3.2)
Attach files to posts (ver 3.3)
Multi-part file posting capability (ver 3.4)
Skinned Interface (ver 3.5, 3.6)
Throughput-o-meter (ver 3.7)
Minimize to system tray, boss key (ver 3.7)
Auto-shutdown and Auto-Exit (ver 3.7)
Fix several significant memory leaks (ver 3.8)
Added since-last-session filter to the chooser (ver 3.8)
Advanced chooser filter dialog (ver 4.0)
Ability to classify downloads by full newsgroup name in addition to short newsgroup name (ver 4.1)
Support importing of NZB files (ver 4.2)
Up to 10 simultaneous connections supported (4.2)
Multi-newsgroup Search (4.3)
Queue Statistics to show total bytes downloaded, total bytes remaining, etc (4.7)
Bandwidth Counters (5.0) keep a running total of the bandwidth that you have used from your ISP.
Privacy options to delete unwanted search histories, etc (5.2)
Support for secure usenet (5.4-beta, 5.5)
Filename extension filter (5-4-beta-3, 5.5)
Header per group limit for dealing with servers with huge retention (5.8)
Large queue window for big queue manipulation jobs (5.9)
Windows 8 support (6.3)
Feature to import an NZB as a virtual group [BETA] (6.3)
Screen Shot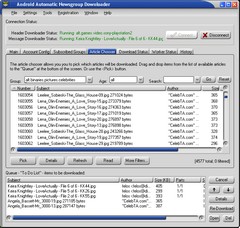 Click the screen shot above to view a full size version
Fast Facts and Features
Queue oriented design. Download what you want, and skip what you don't.
Support for huge newsgroups with hundreds of thousands or millions or posts.
Multithreaded download accelerator downloaders multipart news messages in parallel.
Supports yEnc, as well as uudecode, mime, base64, etc.
Saves queue from one session to the next, so you can continue where you left off.
Headers are cached on disk to prevent time-consuming header reloading.
Allows importing of NZB files.
Support for encrypted usenet (SSL usenet) services
Supports Microsoft Windows Vista
Similar Programs
SortPics is an image sorting and duplicate remover, perfect for categorizing the large numbers of images you may download with Newsbot.