Current Release
Ver 1.8, Sep 27, 2011
All software is certified to contain No Adware, No Spyware, and No Viruses.

Ver 1.8: Download the Self-extracting automatic installation program. Version 1.6+ is for SIRIUS and maybe XM accounts.
This is probably the one you want to download.

Ver 1.5: Download the Self-extracting automatic installation program. Version 1.5 probably doesn't work.

Ver 1.4: Download the Self-extracting automatic installation program. Version 1.4 is for XM accounts. It may or may not be broken.

This software is compatible with Windows XP, Vista, and Windows 7.
All SB-Software products are free of disabled features or expirations. You may try out the full functionality of the program for an unlimited time period.
I wrote XMicroplayer to serve as a convenient player for the Sirius/XM online radio service, because I really didn't care for how the default web-based player worked, and I wanted something that was simple and convenient to use.
UPDATE - There's all kinds of confusion. Even I am confused, and I'm the poor sap whose trying to maintain this software. After the merger, Sirius closed out some XM accounts and made them into Sirius accounts (they did this to me, your humble software author). Because of this, I rewrote version 1.5 to be Sirius only. Then I learned that there were still a bunch of XM account users out there. For a while I was telling XM users to use version 1.4 and type their password in ALL CAPS (why? I don't know why... ask Sirius/XM about this confusing mess). At some point, Sirius and XM streams stopped working entirely when the Sirius Flash Player was released. XMicroplayer was completely nonfunctional at this time, and I gave up hope. Then at some yet later time, the old streams started working again. I don't know how long the streams are going to continue to work. Sirius/XM has a habit of making major changes on a whim without any notice and breaking things. Also, the channel lineup changes from time-to-time, so 1.7 ought to fix most of that mess, as of august/2011.
WHAT THIS MEANS - For me, a Sirius account user, on August 31, 2011, I am able to use version 1.6. The download link is to the left. There may be some problems with the channel map, you can email me and I can look into it. For me it plays channels 8 and 33, so I'm happy.
Note: You do need an account with Sirius/XM to use my player. They do offer limited time trial accounts, and most people who have a car or home receiver should already have the online access. At some point they decided to charge extra for the "online" account so you might not get online service with your mobile service. In my opinion, this was a really bad idea of theirs...
Please Purchase / Register your software today!
This software is currently free for noncommercial use; so there is no need to register it at this time, but you may still do so and receive my other programs.

Paying online with your credit card is the most popular form of registering, but you may also register by using Pay-Pal, or by sending a check in the mail.
Would you like to know more about XMicroplayer, and how you can use it to listen to satellite radio?
Want to know more? Check out the following:
| | |
| --- | --- |
| 3 | Download the software for free and try it out today! |
Why use this player?
Well, I use it because I don't like the default one, which is based on a web interface (or built into WMP with embedded web interface). If there is interest in this program, then I will continue to add more features. You can send comments and suggestions to email address.
Disclaimer:
Use this software at your own risk. This software and it's author are not affiliated with XM Satellite Radio, Inc. No warranty expressed or implied.
Screen Shot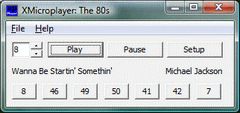 Click the screen shot above to view a full size version
Fast Facts and Features
Simple, non-web based UI
Multiple channel presets
Easy to use
Works with XM radio service from xmradio.com