Current Release
Version 1.3, 2/11/2007
All software is certified to contain No Adware, No Spyware, and No Viruses.

Download the Self-extracting automatic installation program. The software will be automatically installed to your computer.

Download the software in a ZIP archive. You will need to unzip it with a tool such as pkzip or winzip.
This software is compatible with Windows version 95, 98, ME, NT, 2000, and XP.
All SB-Software products are free of disabled features or expirations. You may try out the full functionality of the program for an unlimited time period.
Help! Your desktop icons are on a rampage! They've become self aware and they're invading your desktop. The icons have augmented themselves with cannibalized parts from your computer. You have to blast them before they blast you. 100 levels of exiciting icon-blasting fun! This game features rendered graphics and requires directX 9.0 or better. Free download.
Please Purchase / Register your software today!
"Registering" is the term we use for how you "buy" the software. Please register your software today. The price is cheap, your registration is good for all future versions and it helps me to continue to develop the software!

Paying online with your credit card is the most popular form of registering, but you may also register by using Pay-Pal, or by sending a check in the mail.
Would you like to know more about When Icons ATTACK! ?
Want to know more? Check out the following:
3

Read

more

about the development of the game!

| | |
| --- | --- |
| 4 | Stop reading and just download it already! |
When Icons Attack! is a unique game for Windows XP where your desktop icons come alive and invade your computer.
Screen Shot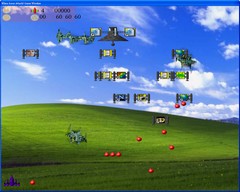 Click the screen shot above to view a full size version
Fast Facts and Features
Battle your icons for control of the desktop
100 exciting levels
Cool powerups - hull plating, shields, weapon launchers, and more!