Current Release
Ver 1.3, Nov 17, 2006
All software is certified to contain No Adware, No Spyware, and No Viruses.

Download the software in a self-extracting EXE installer. The automatic installation program will install the software for you.
This software is compatible with Windows version 95, 98, ME, NT, 2000, XP, and Vista.
All SB-Software products are free of disabled features or expirations. You may try out the full functionality of the program for an unlimited time period.
Newsfinder is a utility program that helps you find free news servers. It does this by starting with a server that you have access to, and using it to see what servers other people are posting from. It then checks these servers by trying to log in without authentication and finds out if it can be done successfully.
Please Purchase / Register your software today!
The software is *free* -- no registration is necessary, but you can still pay anyway if you want to.

Paying online with your credit card is the most popular form of registering, but you may also register by using Pay-Pal, or by sending a check in the mail.
Would you like to know more about NewsFinder, and how it can help you find free news servers ?
Want to know more? Check out the following:
| | |
| --- | --- |
| 4 | Also check out QuadNews... |
Unfortunately, public news servers are exceedingly rare these days, and you probably won't have much luck finding one. But, you're still welcome to give it a shot. The software is free.
If you are unable to find a good 'free' news server, then there are lots of excellent pay news servers. Many offer inexpensive plans depending on what your monthly bandwidth requirements are. Check out the SB-Software news server FAQ.
Screen Shot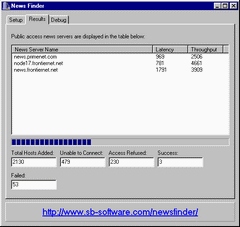 Click the screen shot above to view a full size version
Fast Facts and Features
Helps find free news servers